Assalamualaikum dan Salam Sejahtera,
Untuk makluman semua, saya ade supply minyak hitam dan minyak gear utk pelbagai jenis kereta samada petrol atau diesel. Brand minyak hitam ini adalah
Q8 Oils
yang mana diimport dari UK. Tuan2 boleh mendapatkan maklumat lanjut mengenai
Q8 Oils
ini di website rasminya iaitu http://www.q8oils.com/index.php?domain=com
Majoriti pengguna
Q8 Oils
ini sungguh berpuashati dengan perfomance kereta setelah menggunakannya. Tuan-tuan boleh melihat maklum balas dari pengguna-pengguna minyak hitam ini didalam forum-forum kelab kereta melalui internet.
Harga yang ditawarkan lebih murah dari harga di pasaran.
Please call @ sms Raden 019-6000 252, COD at kl area/putrajaya or nearest.
Sekian Terima kasih.
Q8 OILS - FULL SYNTHETIC - F1 (10W-50)
A full synthetic petrol engine oil developed for the British Touring Car Championships. It offers the ultimate
protection for high performance petrol engines.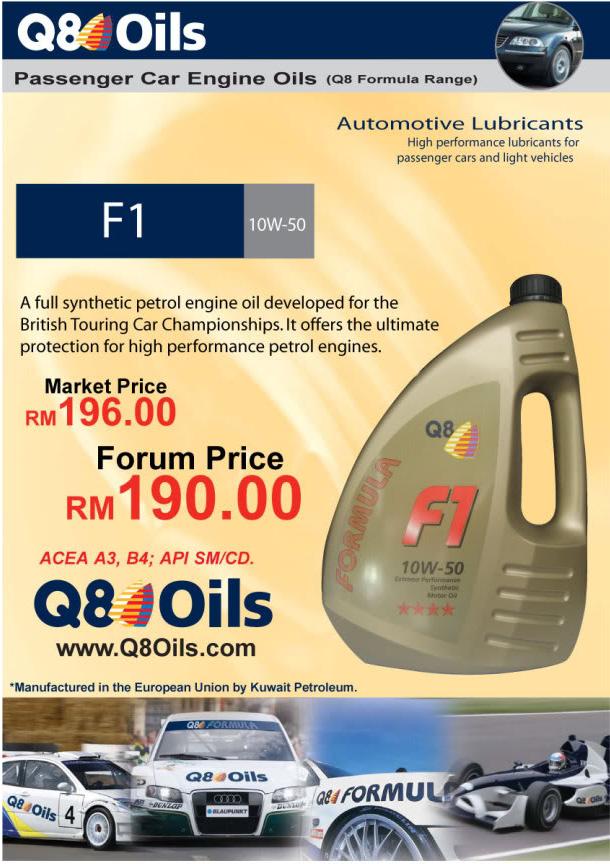 Q8 OILS - FULL SYNTHETIC - EXCEL (5W-40)
A full synthetic 5W-40 lubricant designed to provide optimum engine protection. Its low viscosity, high
quality formulation, helps increase fuel efficiency and release engine power in high performance motor
cars. Suitable for petrol and diesel engines.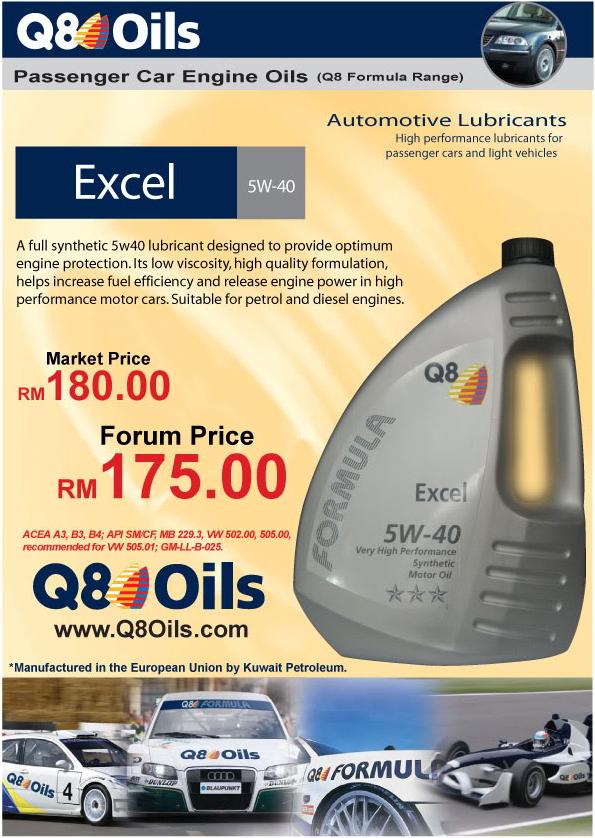 Q8 OILS - SEMI SYNTHETIC - ADVANCED (10W-40)
A part synthetic engine oil for high performance petrol and diesel engines. It improves fuel efficiency,
reduces oil consumption, eases cold weather starting and reduces engine wear.
Q8 OILS - MINERAL BASED - PLUS (15W-40)
A mineral based oil that meets Europe's toughest engine tests. It is suitable for all types of driving
conditions and reduces exhaust emissions and oil consumption. It protects engines even at the
highest temperatures and is suitable for petrol, diesel and LPG engines.